I'm not a big perfume person. I tend to loathe the scents hidden in magazine perfume adds. My eyes tear up just from walking through the heavily perfumed section of a department store. In fact, until recently, I would have told you that the only perfume I could tolerate was my best friend's bottle of So Delicious. So that's why I was a little aprehensive when I put in an order for two perfume samples at Lucky Scent. They arrived today in tiny little vials, and I timidly dipped into Serendipity 3's Serendipitous.

Let me just say YUM.

It's a sticky-sweet, but not overpowering scent. I don't smell too much chocolate, but it brings to mind that lovely waffle cone smell that wafts in as you enter Ben & Jerry's. With a touch of melted vanilla and chocolate ice cream. Delicious. I keep wanting to eat my wrists.

My other perfume was Pilar & Lucy's The Exact Friction of Stars. I haven't tried it yet, but we shall see...

In honor of my newly found love for perfume, I thought I'd pick out some fragrances that would be perfect for Rosh Hashona, which starts tonight for us Jews.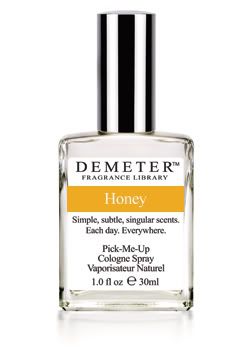 What else could I pick besides apples and honey? Above you can see Gathering Apples by CB I Hate Perfume and Honey by Demeter Fragrances.

Gathering Apples supposedly smells like "thousands of ripe red Mackintosh apples and a bit of old weathered wood from the bushel baskets" ... "It's a happy fragrance, a day spent in an apple orchard dancing around the apples trees and sneaking bites of crisp, juicy fruit."

Honey is "Sex in a bottle. Sugary dripping nectar..."

Mmmmm. Tasty, religious, and seasonally appropriate. If you needed an excuse to buy perfume, this is it.