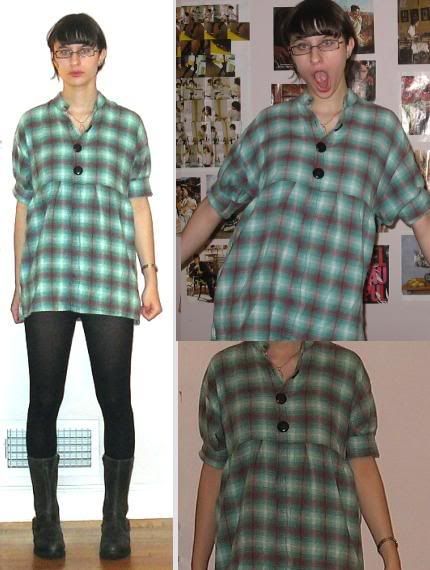 Before I reach the point of this post, I want to say that I almost didn't include the picture on the far left because I was a little worried it would end up on Daddy Likey's Don't Show-cha Your Chocha. But then I thought, to hell with it. I stand by my decision to wear the shirt as a dress. My tights are opaque and my intention is pure! Take that, Winona! (P.S. Love the chocha-showing series, brilliant idea)

Anyway, this post is about my plaid top/sort-of-dress. It used to be this horribly baggy button-down tunic with slits on the side and long sleeves. I think my mom wore it in the 80's. I've been wearing it as pajamas, but yesterday I pulled it out, looked at it, and decided I could make it wearable outside the house.

This was easier said than done, because I am not a sewer. The extent of my sewing abilities have been gleaned from hand-stitching a lavender pillow at summer camp when I was about 10 years old. But I pulled out the family sewing machine, taught myself how to use it (which would have been easier if the instuction manual hadn't been misplaced), and got to work. I gave it a babydoll shape, a bit of pleating, and short, puffy, cuffed sleeves. I got rid of the old buttons, stitched most of the front shut, and sewed on some new buttons. And I stitched up the slitted sides. It's not great, and the inside is a mess (but no one's gonna be inspecting the inside of my shirt, right?), but I don't think it's too bad for a first-time sewing project. Especially since I had to teach myself how to use the sewing machine and do the pleating and all. I'm very proud.