Here's a late entry for the Blogging Society Challenge to enjoy over the weekend:

Aldina: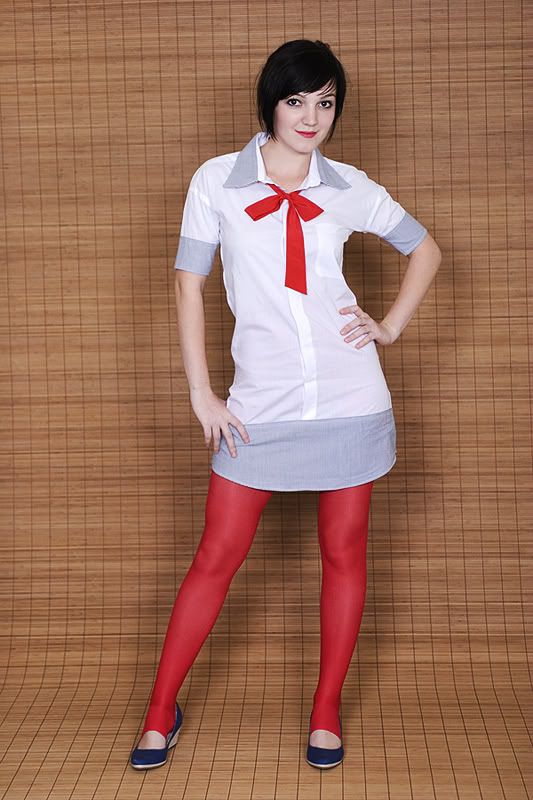 "I bought a soft cotton shirt, crisp white color, and the biggest one I could find so I could have room for scissor mistakes. I even looked specifically for one with a breast pocket. I laid it on the floor with a form-fitting pencil dress over it, and cut out the form of the hips and waist. I cut the sleeves off to elbow length so I could have room for mind-changing and mistakes (those go hand in hand for me :)). I knew I wanted to keep the dress feel of the shirt - dressy, crisp, business-like, and masculine, but I also wanted to show my flirty & girly style so I went with a nautical theme. I chose dark blue pinstripe soft cotton material to accent the dress with, and I first added it to the hem of the dress, that way I can actually wear it in public :). I kept the "swoosh" circular hem, like what it was on the actual shirt. Then I added to the sleeves, I kind of added a mock-fold to them, but I really wanted it to be wide so it balances out the wideband at the hem. I contemplated what to do next, but I finally the pinstripe fabric to the collar, and played around with the fabric belt I had, whether to use it as a belt, a tie, or a handkerchief in the breast pocket. It worked out just right as a tie, with red stockings,and blue wedge shoes. The dress was done in 4 hours, the first week of the challenge, and it was all sewn, no glue, pins, etc."

Good work, Aldina! What a fantastically cute outfit!

I recieved The Little Black Book of Style by Nina Garcia in the mail today (thanks ShopDiary!), and I must say I absolutely adore it. It is written in a casual conversational tone (not unlike the tone used by the more down-to-Earth-yet-fabulous fashion bloggers), and it's full of solid advice. This book isn't for fashion disasters or the fashionably clueless, but rather for the stylish woman looking to refine her closet and gain a better sense of self. With beautiful illustrations by Ruben Toledo, advice from designers and fashion insiders, and lots of fashion history (Nina Garcia really knows her stuff!) to accompany the general body of the book, The Little Black Book of Style is truly a must-read!

I'm not sure if I'm legally allowed to do this, but here's an excerpt from the book on men's button-down shirts that I think is a perfect supplement to this Challenge post. If I get yelled at/threatened I'll take it down...

"A classic men's white shirt:
The classic white shirt is as key to American style as blue jeans. It is chic and simple. Practical and unpretentious. It can be paired with jeans (Jackie O. in Hyannis), black pants (Uma Thurman in Pulp Fiction), a long skirt (Audrey Hepburn in Roman Holiday), a gown (Sharon Stone on the red carpet). It is also uncredibly useful to cover up a bad outfit when entering a good hotel (Julia Roberts in Pretty Woman).

The test of time:
Nobody knows who the first woman to throw on the man's shirt was, but she is the kind of woman I'd like to meet. You know she understood the appeal of effortlessness and a complete lack of pretension. As early as the 1920s, during the birth of the garconne look, women were photographed in men's shirts. In the 1950s, Audrey Hepburn liked to wear a man's shirt and tie the tails twice around her tiny waist. In 1977, Diane Keaton's eponymous character in Annie Hall wore the shirt, several sizes too large - and incited a craze. And in 1998, Sharon Stone stepped onto the red carpet in a lavender Vera Wang skirt and her husband's white shirt, tied back with a dragonfly pin. Don't say you weren't impressed. The white shirt has endured decade after decade. Any time a cool girl or a designer throws a man's white shirt into the mix, we are reminded of the power that comes with that crisp simplicity. And is there anything quite so sensual as seeing a woman in a man's white shirt?"