I am determined to post something, but the truth is I've been terribly busy and devoid of fashion inspiration. I thought it could never happen, but I've been listlessly scrolling through the blogs on my Google Reader, fashion spreads, online stores, various fashion websites, and all of the places I usually get post material from without finding anything that makes me jump up and down in excitement. If anyone finds something particularly exciting and fashion-y, please send it to me and help me get out of this slump! My brain is dying here! (Okay, not literally, but I just wrote the world's most boring paper and it made my mind feel like it had turned to mush, also not literally)

Now I'll leave you with my current (and within-reach!) wish list: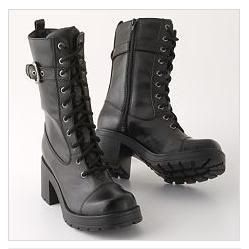 Mudd Sorcery Midcalf Combat Boots
$31.99, Kohl's
I know it's silly, but after those $7.00 Hot Topic combat boots sold out in my size, I've had an unquenchable desire to buy something similar to the Combat Boots That Got Away. And of course everything I find is over $7.00. Damn my hesitation! Anyway, I like these boots 'cause they're the first footwear I've seen in a while with non-flat heels I can actually walk in. Not badly priced, either.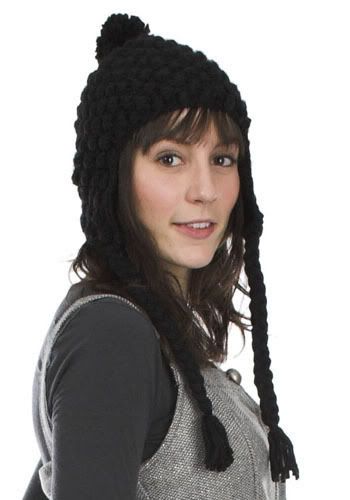 Amsterdam Knit Cap
$17.99, Mod Cloth
Yes, I posted about this yesterday. But the more I look at it, the more I love it! I am a big winter hat person. Cozy head = happy Kori. Extra points for pom poms.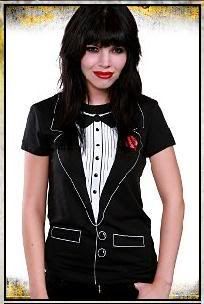 Mighty Fine Tuxedo Tee
$19.00, Hot Topic
For some reason, tuxedo tees always seem to be calling my name. They are tacky in the best possible way. (Psst...Speaking of Hot Topic, the World's Most Terrifying Model has set up camp on the Hot Topic webpage. All red eyebrows and fearsome clown-like makeup, she is truly something to be reckoned with.)

I was going to continue my wish list with a few other slightly boring items, but it occurs to me that the boots, hat, and tee-shirt above would make a fantastically quirky outfit, if paired with practically any kind of skirt or pants. I'm picturing them with some sort of acid wash breeches-type things. Dear God. I don't know where that came from.