The news about
Cynthia Rowley for Avon
was all over the blogosphere. So why is it that Christian Lacroix for Avon has been so under-publicized? I was just browsing the Avon website when I came across Lacroix's new Avon perfume,
Rouge:
The perfume is a pretty good deal at only $32. Supposedly the scent is "a burst of citrus and spices" with "a floral heart wrapped in the most sensual cashmere woods." Mmm, sounds lovely, no? Customers gave it rave reviews, using words like "classy," "rich," "sophisticated,""sensual," "romantic," and "fresh." I absolutely adore the bottle - it looks so glamorous and mysterious at the same time. And the name, Rouge, just enforces the mysterious glamour.

The icing on the cake is this Christian Lacroix Parfums for Avon cosmetic bag, which is free with every unit of perfume purchased: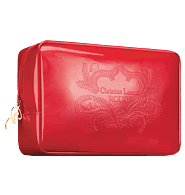 I'll be adding this to my wish list!