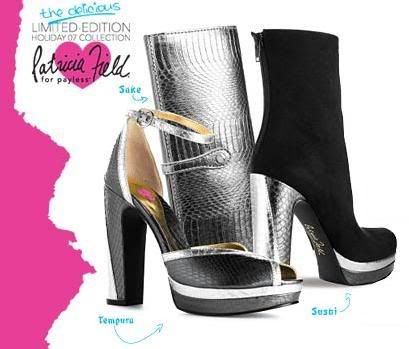 Remember Patricia Field's Payless line, scheduled to be released this holiday season? Well, two of the designs are available for sale at Patricia Field's website!



Saki Pump, $40



Sushi boot, $55

I don't love the Sushi boot, but I think the Saki pump is pretty cute, even if it's an ankle-breaker. The designs strike me as very playful, and very Patricia. I love the names of the shoes, too; so far I know that three of the shoe names are Saki, Sushi, and Tempora. Super fun!

What do you think?

I'm hoping that Payless steps it up this time. I saw Lela Rose's line in the store a few weeks ago and was sorely disappointed at how cheap it looked.