Tuxedo-inspired looks have been catching my eye lately, especially this look from the latest Teen Vogue. I really like how it's fun and femenine, but almost completely made up of menswear. It's very chic, and I think you could wear it anywhere. The only change I would make is to wear opaque tights underneath to keep from freezing or displaying the buttockal area (yes, I made up that word).

Here is my cheaper version of the look: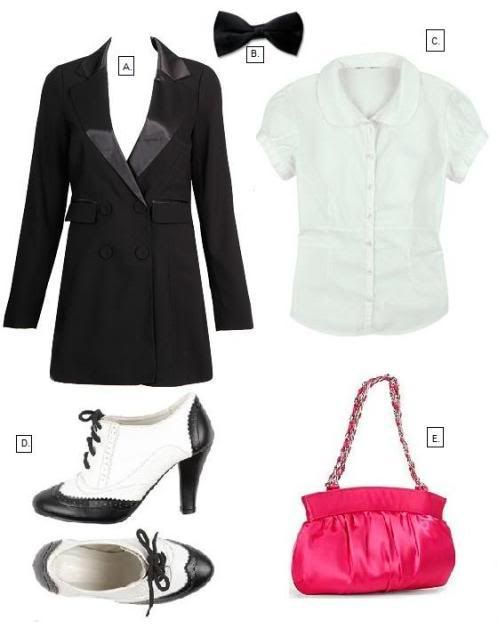 A. Lux Blazer, $32.80 Forever 21
B. Solid Black Men's Bowtie (to wear in hair), $7.95 Amazon.com
C. Peter Pan Collared Shirt, $26.50 Delia*s
D. White Wingtip Shoe, $34.00 Delia*s
E. Pleated Satin Evening Bag, $20.25 Macy's
That outfit is looking pretty good to me. In fact, I want it! I'm a sucker for anything contrasting men's and women's wear. Sigh...
For more fashionable tuxedo-inspired looks, check out this fun "Lady tux" look book.