With a nation-wide addiction to Gossip Girl starting up, as well as a general admiration for Balenciaga's Fall collection, it seems that preparatory chic has been everywhere. Blazers, high-heeled oxfords, plaid miniskirts, cardigans, and collared shirts have been popping up all over. Girls everywhere seem to be cashing into the prep craze.

I have not. Yet.

I like a lot of the individual preppy pieces, but together, they're a bit much for me. I don't want to look like a librarian or a private school girl. However, I think that adding just one preppy piece to an outfit can be a fantastic way to embrace the trend without looking like you split your time between the library and the tennis court.

20's - inspired & Ladylike with a Hint of Prep: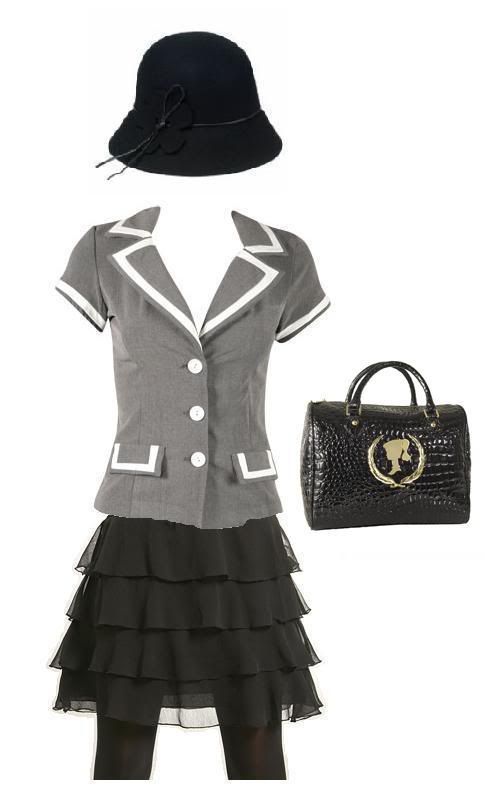 Hat, $9.99 Kmart
Blazer, $26.50 Wet Seal
Skirt, $56.03 ASOS
Bag, $45 Patricia Field

The hat and the skirt are very '20s, and (I think) very chic. The bag is unquestionably ladylike, but the Barbie symbol keeps it fresh. And the blazer is very much like the Balenciaga one (and the similar J.Crew one) that has been all over, only it costs about a million times less. This look would be amazing with dark purple tights and gloves.

Cute 'n Tough with a Hint of Prep:


Top, $19.99 Erin Fetherston for Target
Skirt, $34.50 Delia*s
Hat, $7.80 Forever 21
Boots, $150 Urban Outfitters

The plaid skirt is definitely preppy. The shirt is a bit, but not so much, and I think the hat is so basic and cute that it adds a snowbunny-ness to the outfit. And the boots, of course, add some needed edge.

I'm too lazy to make any more outfits, but I keep picturing how fantastic the plaid skirt would look with a faux fur coat and bow headband (a la Gossip Girl). Also, the blazer from the first outfit would be smashing with a sequined skirt or dress, no? I like how versatile preppy pieces can be, and I am in love with the fact that they can tone down anything flashy.

Bring on the preppiness!

And read Gala's article (my inspiration for this post) for more info on putting together a prep-chic look!