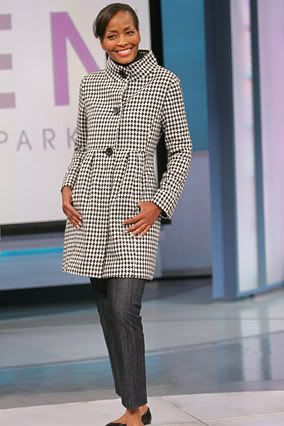 Like every other fashionista on the net, I have seen the preview pictures of Sarah Jessica's line for Steve & Barry's and been disappointed. It's not that the clothes are offensive or gross...they're just boring. Why bother shopping Bitten when you can easily scoop up the same tees, sweats, and jeans you've been getting at Target and Old Navy for the past ten years? That said, something has changed. Today I looked at the pictures taken from the Bitten preview on Oprah, and found a coat that I quite like. It's not ground-breaking or terribly unique, but it is very cute. And, better yet, it only costs $19.98. So while I may not be smitten with Bitten (I may or may not have stolen that line from Oprah.com), I will be making a stop at Steve & Barry's to pick up a new coat this fall. Thank God SJP got one thing right.

So what do you think? Did anything catch your eye?

P.S. Wouldn't the coat look smashing with red lolita sunglasses, black opaque tights, and chunky red heels? I can hardly wait!