As summer approaches, my search for the perfect romper (jumpsuit, playsuit, whatever you want to call it) has gotten more and more urgent. I have long since decided that I want to take part in the romper madness that has been sweeping the world, but there are so many options that I haven't been able to decide which style is right for me. Until yesterday, when I found a little black romper (hmm...will LBR be working its way into our fashion vocabulary?) at the Hot Topic website. No, I wasn't blown away by the styling, but whatever scruples I had were dissipated by the $16.00 price tag. Seriously, can you say steal? Of course, as usual, I began to think about the many ways I could wear the romper and quickly became convinced that I would live in it this summer. I mean it. Like the LBD, the LBR is easy and versatile, with an added sense of fun. Woohoo!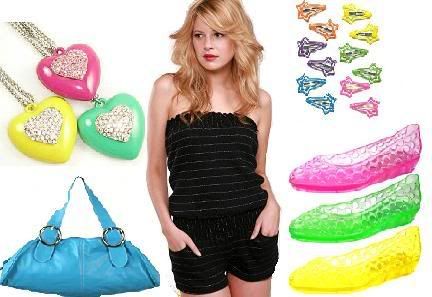 This is my favorite way to wear the romper, I think, with lots of neon accessories. So playful and summery!
Necklace
Hair Clips
Bag
Jelly Flats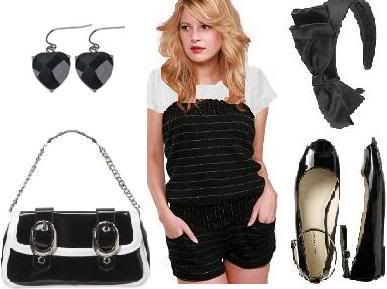 Wear the romper like this to give off a preppy-cute-chic vibe. It's a little more dressy than the previous look, so you can get away with this almost everywhere.
Earrings
Bag
Headband
Flats
T-shirt

Other ways to wear the LBR:
- Dress it up with black tights and heels.
- Funk it up with neon tights.
- Wear it over your swimsuit at the beach.
- Whatever else you think of. Seriously, there are so many options. This romper will be my best friend during hot weather, and if I'm still not ready to give it up when the weather starts to cool off, I'll wear it over tights and a shirt.

Well, I definitely convinced myself that I need the romper. Positive posting will do that. I think I need to buy it now.