Tonight is a sad, sad night. Gilmore Girls is coming to an end. I strongly suspect that I will cry during the whole episode. I have spent 7 seasons wishing that I was a Gilmore, and now the dream will finally end. To commemorate and mourn the end of the Gilmore Era, let's take a look at major fashion moments within the show. Goodbye, Gilmore Girls. I'll miss you.



Remember the good old days when Rory went to Chilton and was stuck in that awful uniform? Also memorable from the Chilton days is Lorelai's first-day-of-school outfit, which I couldn't find a picture of.



Luke isn't exactly known for his fashion, but he is known for his plaid shirts and ever-present baseball hat.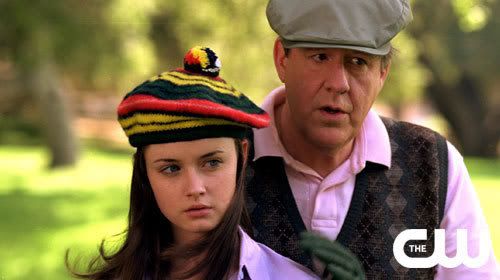 Who could forget the dorky golf hat that Emily gave to Rory when she went golfing with her grandfather? No one else could have managed to make it look so adorable.



The fashion show that Lorelai and Emily walked in together was such a fun moment.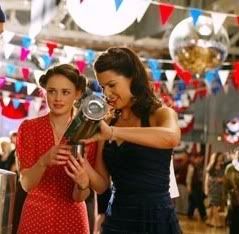 The events in Stars Hollow make me extremely jealous. Rory and Lorelai get to dress up in these cute retro dresses for dance offs, as well as in Pilgrim outfits, famous paintings, and other things.



This scene is one of my favorites. Who wouldn't want to jump off a tower with an umbrella while wearing a gorgeous gown? (That said, it would be incredibly foolish and result in serious injury, but it's a nice idea)



Remember when Lorelai found 'the perfect wedding dress'? I didn't like it so much, but it certaintly was unique for a wedding dress. Unique weddings are a Stars Hollow specialty. There was Luke's sister's wedding where everyone wore medieval garb, Lorelai wore a beautiful flower wreath in her hair, and Luke wore (gasp!) a suit. There was also Lane's wedding where Lane and Zack dressed in traditional Korean robes, then raced to the church to have a second ceremony in more normal wedding outfits. I loved how Lane's skirt tore off to make her dress shorter for the party.

That's it for the Gilmore Girls fashion moments. For some reason there weren't very many pictures available. In an hour and a half, I will have to say goodbye to the show. I think I might as well start sobbing now.

Want more Gilmore Girls fashion? Find out where to buy some of the clothing worn by Rory, Lane, and Lorelai here. CW gives the lowdown on the show's style here. Buy merchandise featuring businesses from the show (The Dragonfly Inn, Luke's Diner, Yale, etc) here. The "Reading is Sexy" shirt that Rory wears in one of the episode is available here (I want it badly). Daddy Likey picked out the perfect dresses for Gilmourning.