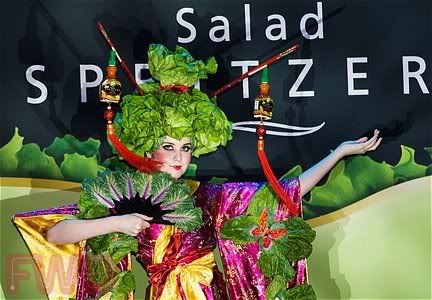 How does a model know when she's really made it? When she gets to walk the catwalk as a salad geisha, of course!
So yes, the models walking in the Wish-Bone Summer Salad Fashion Show looked kind of ridiculous (or freakishly awesome...your pick), but I appreciate that they had a big enough sense of humor to take the job. It takes a lot of guts to strut your stuff in a gigantic cabbage wig. And what could be better than promoting vegetables? Absolutely nothing. Listen to your mama, children. Sometimes she has something important to say.
Picture from FWD. For more pictures of salad-clad models, go
here
.