I know that many people are tiring of big designers designing lines for cheaper stores (Target, H&M, etc.), but I am loving it. How else could I afford a designer piece? I do, however, find most of the celebrity collaberations to be somewhat annoying. If the celebrity is a fashion icon, it's one thing, but Amanda Bynes (who will be designing a line for Steve & Barry's after Sarah Jessica Parker) should really stay out of it. Still, like I said, I do appreciate cheaper lines from big designers, and Missy Lovely has the most recent scoop on Vera Wang's line for Kohl's. She posted the below preview photos, which I had been anxiously awaiting. To my surprise (and delight!), the line looks great! I can't wait til it hits stores in September.



I'm loving this skirt. It has a great shape and a hint of quirkiness that screams, "I'm not your average department store skirt!" Which it isn't. So props to Vera!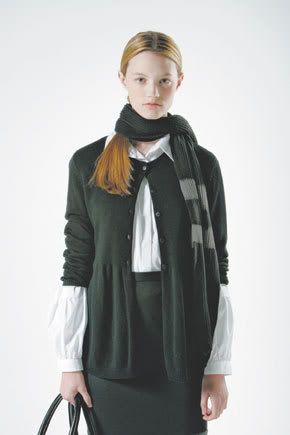 To be honest, this look leans a little towards frumpy. But the pieces are not bad by themselves. The cardi is quite adorable, and very versatile. I think that the skirt and shirt, minus the cardi and scarf, would make the perfect office outfit, albeit not the most original one. Although I think the belled sleeves and pleated front of the shirt bring it a step above your normal white collared shirt.



It's hard to tell whether this model is wearing a dress or a skirt with all the layering, but either way I think the fabric and hemline are gorgeous. I also think the ruffles on the shirt are a nice touch.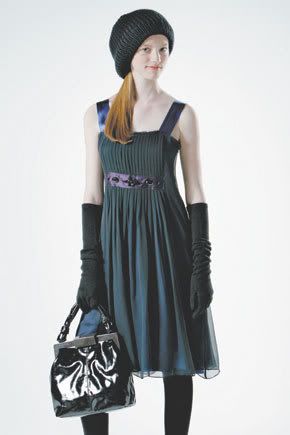 This dress is rather simple, but very pretty. I love the contrast of the shiny ribbon against the rest of the fabric. I think this would be perfect for a holiday party.



This picture only gives a glimpse of the model's outfit, but the little you can see is very inspiring. The jacket looks wonderfully detailed, and the shirt sleeves have a beautiful, puffed out volume. I like the bag too- very versatile. Not something I would carry, but I think a lot of women would.

Well, that's it for the pictures. Visit Missy Lovely for more details about the line, and be ready to shop Kohl's during the first week of September. This fall/winter is going to be a good one - Vera Wang for Kohl's, Patricia Field for Payless, and Libertine for Target. I can hardly wait.