Forever 21 seems to have a bad reputation for ripping off designer clothing. (Well, I don't actually have a problem with it, but a lot of people do. Diane von Furstenberg, for example.) Anyways, I'm starting to wonder why certain other stores, like Urban Outfitters, aren't infamous in the same way. Yesterday I was browsing the Urban Outfitters website when I came across a dress that looked vaguely familiar. I spent the rest of the day trying, with no avail, to remember where I had seen it before. Then, in the middle of the night, revalation struck. I sat up in bed, shouted "Ahah!", and reached excitedly/tiredly for my laptop. Sure enough, once I had logged onto style.com, a more colorful version of the Urban Outfitters dress was traipsing down the runway in the middle of Anna Sui's spring show. Hmm. Scandalous.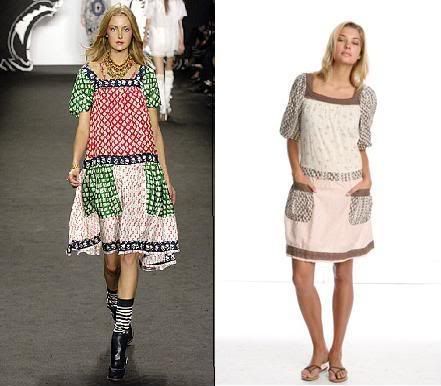 Mystery solved, I was about to close the computer and attempt to sleep when another designer imitation caught my eye. This one was a blaringly obvious knock-off of the House of Holland t-shirts.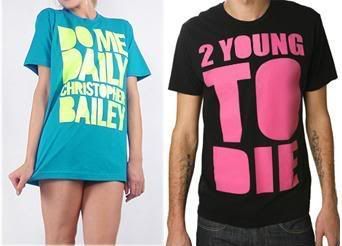 Should Urban Outfitters be ashamed? Maybe. But we alll get to reap the benefits.

You see, my friends, the Ana Sui imitation, which was already way cheaper than its designer twin, is on sale for $19.99. There really is justice in the world.