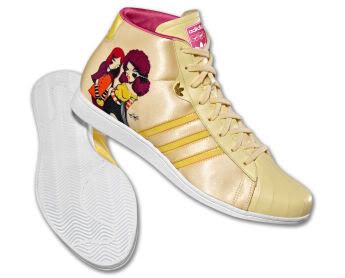 I am not really a sneaker person. Well, okay, I guess that's not entirely true. What I mean to say is that I am generally devoted to only one brand of sneakers. I have 3 pairs of Chuck Taylor All Stars and that's it. That is, until now. I stumbled accross a picture of Fafi wearing the above Adidas sneakers featuring her Fafinettes and became obsessed. I MUST have these shoes. The only problem is that I can't find them in my size. I found them at amazon.com and karmaloop.com, but neither site has them in a 7.5 or 8 US (my size...I prefer a 7.5, but either works). So please, my oh so lovely blog readers, help a girl out. Does anyone know where else I can order these shoes? If you can find them for less than $100, I'll give you a cookie. A lovely virtual cookie. And I'll send you love letters every day for a week. Now who could refuse a offer like that?

P.S. I am feeling kind of disloyal to my beloved chucks, so I'm gonna give them a shout out (shoes have feelings too, you know): I still love you, mis zapatos!

You probably all think I'm a crazy person, but it's my blog and I can talk to shoes (in Spanglish) if I want to. Plus, I came to terms with my insanity a long time ago.

Mwah.